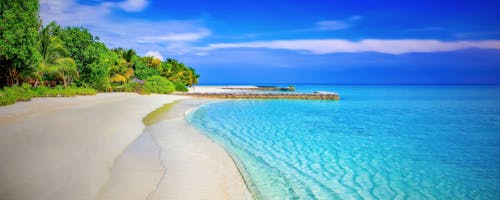 It was on the 30th of January that I made my last trip off the Song of Norway – and visited a beach similar to this in St Lucia. It was a beautiful afternoon and I had Wendy Lundgren, the ship's nurse as company – it was such a wonderful tranquil place prompting these words…
Dozing peacefully beneath a breathless sky
Dreaming dreams in my minds eye
Of wispy clouds with feathered feet
New born, unformed, unstill, complete
Blood red sun, white hot glare
Soothing breezes, meet me there.
As the sun began to set we made our way off the beach passing some local fishermen who were pulling their boat up the shore. On a whim I asked them which way did St Vincent lie – they duly pointed and under my breath I said "See you Suzie as I will be home soon." Suzie was Suzanne Charles whom I met in London in 1985 through a mutual friend. She was from St Vincent and was studying Law in London. We became really close friends as we hit it off immediately so much so that I went to stay for a weekend and stayed for two years as a flatmate. I would call Suzie as soon as I returned to the UK.
This would signal the end of my adventure as a Purser with the Royal Caribbean Cruise Line as we would now be heading to Miami where I would disembark and be flown back to London whilst the Song of Norway would be taken to a dry dock to be decommissioned and eventually sold for scrap which was quite sad really (she was a stunning vessel – sleek and streamlined.)
After an overnight stay in Miami I was duly flown back to Heathrow nearly 11 months after leaving there. My jaunt had taken me to Vancouver, the west coast of Alaska, down the west coast of America to Mexico. From there we took the Panama Canal to Puerto Rico and continued on ten day cruises through the Carribean. The first part of this escapade was the most enjoyable – the scenery in Alaska was breathtaking whilst the Caribbean truth be told I found tedious as there is only so little to do unless you like sunbathing for hours on end.
Tired and jet-lagged my return to London was a brutal reality check – it was cold, crowded and aggressive – all the reasons I wanted to get away from there in the first place. Still I would call Suzie and spend a couple of nights there before heading up to the Midlands to see my family for the first time in a year. However there was no reply from her so my only option was to head straight up to my parents since I had nowhere to stay in London.
At the time it was a relief as the clamour of London was not what I needed so the quiet and solace of rural Shropshire helped me recover from what in effect 11 months of work with only one day off. Still the experience and the magic exhilaration of Alaska stays with me to this day. I tried to call Suzie several times but still to no avail so I decided to contact Keith our mutual friend. When I eventually managed to talk to him I knew immediately something was wrong – Suzie had passed away a week or so earlier! Sadly she had developed epilepsy that only manifested itself once she went to sleep. I knew of this and had badgered her into going to the doctors only for the medication to be so debilitating that Suzie decided not to take them but have some quality of life for her remaining days.
Suzanne Charles passed away in Keith's home on the 30th January 1997 – the day I was on the beach in St Lucia and asked which way St Vincent lay.
Her body was flown back to St Vincent and we held a Memorial Service for her in London. She touched many people's lives and my abiding memory of her was being constantly on the phone either supporting fellow students or helping others.
You will find my eulogy to her in the Poetry pages – 749 1385 – her phone number at the flat in White City that we shared.